Lunt Solar Systems, a Tucson, AZ based company, is the world's leading manufacturing and sales facility that designs, fabricates, assembles, and tests solar telescopes and solar filters.
Lunt has 20 years of experience in the design and manufacturing of various devices that are approved and ISO certified as protective eyewear and optics and has a long history of working with US government entities, including NASA and the US Air Force, as well as numerous educational institutions. 

In response to the COVID-19 crisis, Lunt Solar Systems is activating its resources for the sourcing, vetting, and quality assurance of genuine N95 respirators. Lunt is committed to providing those who are fighting the virus on the front lines at healthcare facilities and organizations with the exclusive opportunity to purchase these desperately needed devices, serving as a dedicated channel for distribution. 
Safety is our number one priority and our product testers have the experience necessary to determine whether a unit actually passes or fails quality control criteria.  In addition, Lunt is an experienced supply chain distributor with experience coordinating the distribution & sale of over 5,000,000 NASA-approved solar protective glasses during the 2017 US Solar Eclipse.
NO OTHER ASTRONOMICAL PRODUCT REQUIRES A HIGHER LEVEL OF QUALITY CONTROL THAN A SOLAR INSTRUMENT.
With over 20 years of experience in optics, design, product testing and manufacturing; Andrew Lunt is committed to designing and producing quality products for the hobbyist astronomer and occasional enthusiast. Andrew takes great pride in his team at Lunt Solar Systems for their innovation and quality design of each product.
Our Head of Optics, Markus Ludes, is the best in the business. With his vast knowledge and years of hands on experience, Markus is a key member of the optics team. His quality designs and product testing skills have helped Lunt Solar Systems create some of the most sophisticated and safe optical systems.
Since the company's inception, Brian Stephens has been the man with the plan for all of our product development needs. With a background in optics as well as assembling and troubleshooting optical systems; Brian's dedication to high quality systems has helped our team in producing truly intuitive products that everyone can use.
Meet our jack of all trades, Brandon Keith. Brandon is our expert craftsman when it comes to product design. His experience in the building, assembling, and inspection of optics products makes him a cut above the rest in the workshop.
We know that many of our customers may be new to the astronomy hobby scene. That's why Faye Roman has been our Head of Customer Support since 2012. So whether you have questions regarding how to get started or how to maintain your solar systems equipment, Faye is ready to answer all your questions. Her dedication to our customers' needs makes our team all the more invested in producing innovative and easy to use products.
Lead Optics Preparation Advisor
Another key player in the workshop, David Fonesca is our lead preparation advisor. David takes care of all the major optics components from lenses to filters to eyepieces. His passion for his work and his impeccable skills are what make Lunt Solar Systems products high quality.
This is an extremely well made instrument that makes solar observing in white-light a new experience. My recent comparisons with high-end films and glass filters have proven to me that solar detail through the wedge is superior. I was concerned about heat issues, but when observing with a 4" refractor for an hour or more, the red disk never became too hot for comfort. The Lunt Herschel Wedge has brought quality sunspot observing back into my daily routine.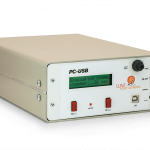 The Lunt PC-USB Pressure Tuner Controller allows incredibly precise control of the view from the scope. After trying hand tuning the scope while both visually and photographic viewing, this device makes the setup process quite straightforward and repeatable in comparison. Tuning can be done at a distance which allows the scope to be unperturbed while viewing. I am glad that I purchased this instrument to improve my viewing!
Have been using this scope for over a year. Totally tricked out with the FT focuser, B1800 BF, and DSII module. All I can say is wow, wOW, and WOW. I'm mainly a visual observer so chose this particular model as its the minimum size required to see spicules (fuzz around the suns edge). Do yourself a favour and hang a binoviewer off it. I do and to be honest I could sit and stare at the sun all day! Pressure tuning, yes that's the only way to fly! This scope is a keeper, forever. Thanks Lunt!